Patch × TRUMP series 10th ANNIVERSARY『SPECTER』
STORY
"This village is as good as dead ────"
A bizarre incident of serial murders happens in Nebula Village, a village deep in a forest that has severed all connection with the outside world.
The act was carried out by four vampire youths in Cocoon (the equivalent of puberty in humans) escaped from their Clan, a custody facility. These emotionally unstable youths carried out murders repeatedly for a certain purpose.
One villager defied the law and invited vampire hunters into the village to solve the problem. However, as the investigation progressed, the bud of the villagers' secret slowly began to bloom and their secret is revealed. What is the villagers hiding? What are the vampires in Cocoon planning?
Eventually, that secret will be brought to light when the talk about the immortality of the legendary vampire TRUMP and the blighted love of the botanist who wants to create a flower that will never wither are shown to be connected to the incident…
Who is the specter?
CAST
臥萬里
Ga Banri 1
松井勇歩 / Matsui Yuuma
An arrogant vampire hunter dispatched by the guild.
He developed a deep hatred for vampires after a certain incident in the past.
---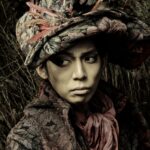 石舟
Sekishu
竹下健人 / Takeshita Kento
A calm and collected vampire hunter dispatched by the guild.
Banri's partner, and someone who knows about his past.
---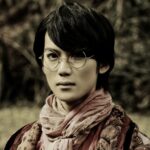 クラナッハ
Cranach
田中亨 / Tanaka Toru
A botanist who studies plants in a cottage by a lake deep in the forest.
At the request of a "client," he is trying to create "a flower that will never wilt".
---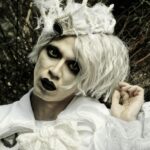 ヒューゴ
Hugo
井上拓哉 / Inoue Takuya
A vampire in Cocoon who escaped from the Clan. A believer in TRUMP.
Wants to become an immortal vampire, and goes on a violent rampage.
---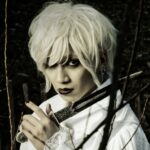 サトクリフ
Sutcliff
納谷健 / Naya Takeru
A vampire who acts together with Hugo.
His senses are heightened due to his Cocoon, and he has the ability to see the death of others.
---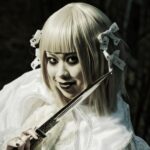 バルトロメ
Bartolome
藤戸佑飛 / Fujito Yuuhi
A vampire who acts together with Hugo.
When he opens his mouth, he speaks nothing but lies, perhaps due to the symptoms of his Cocoon.
---
グレコ
Greco
尾形大悟 / Ogata Daigo
A vampire who acts together with Hugo.
Of the four, his Cocoon symptoms are particularly severe, and he is always under strong hallucinations.
---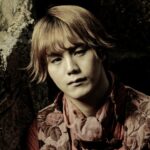 カルロ
Carlo
星璃 / Syori
A young man from Nebula Village. He is criticized by the villagers for breaking the village rules and inviting Banri and his company to the village. A childhood friend of Harriet's.
---
シャド
Shad
三好大貴 / Miyoshi Daiki
A villager from Nebula Village. Rosa's right-hand man. He supports Rosa, who has taken on the heavy responsibility of leading the village in place of the village chief who was murdered by Hugo and his companions.
---
トルステン
Torsten
吉本考志 / Yoshimoto Takashi
A villager from Nebula Village. A conservative who supports the acting village chief.
---
---
ノーム
Nome
下川恭平 / Shimokawa Kyohei
A boy who lives in Nebula Village. He later works together with Banri and company.
During an attack, Sutcliff foretells his death.
---
ローザ
Rosa
松原由希子 / Matsubara Yukiko
Daughter of the chief of Nebula Village. Acting village chief. In an effort to protect the village's secrets, she is hostile to Banri, Sekishu, and others who are strangers to the village.
---
ハリエット
Harriet
齋藤千夏 / Saito Chinatsu
Rodin's daughter, Norm's sister. Rosa's childhood friend. She is in love with Cranach, an outsider to the village.
---
--- Ensemble:
豊田真丸 / Toyoda Shinmaru 増田璃生 / Musuda Rio 安東利香 / Ando Rika 
飯嶋松之助 / Iijima Matsunosuke 喜多村夏実/ Kitamura Natsumi 中路輝 / Nakaji Akira
松田悠 / Matsuda Yu 無糖新十郎 / Mutou Shinjuurou 山田命 / Yamada Mikoto 横濱康平 / Yokohama Kouhei
---
1 Spelled as "Ga Banli" in some other productions.
2 Spelled as "Krauss" in some other productions.